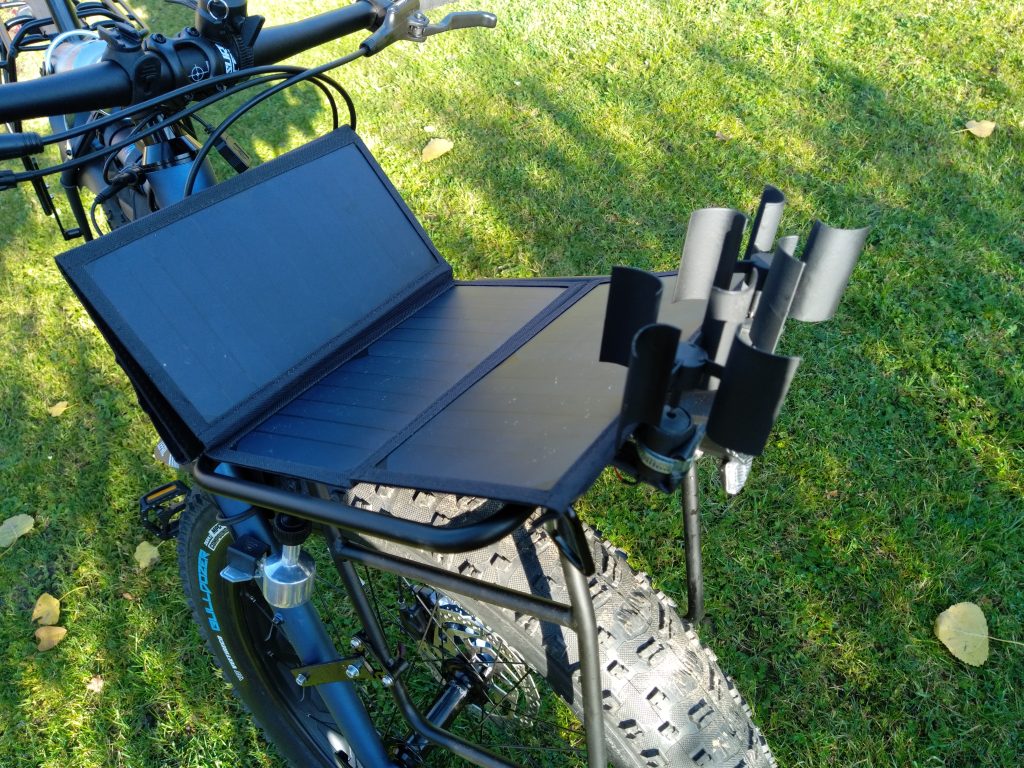 All gear for the bike trip is tested and ready now after a longer phase of ordering and choosing the right items for the journey. It was not so easy to find all things in this actual global economical situation. For example one of the basic components which provides electricity on bikes, the hub dynamo from SON and the APPCON3000 from my business partner was not available in the special size for fatbikes. But in case I'm going to visit places in the Balkans with remote infrastructures like national parks I would like to get sure to have the possibility to charge electronics like a powerbank, a mobile phone and USB lights also during cloudy days when it doesn't make too much sense to use a solar panel.
So I decided to install usual side dynamos and an alternative product from Riese and Müller providing a constant voltage of DC in USB format current. This solution functions well now but there is still the problem that the fatbike wheels are usually not intended for two side rolls of dynamos, what can cause damage on the wheel tire while using this electric system.
Out of this conclusion I had to find an other alternative solution to have electricity on the bike during any type of weather without speed eating side dynamos. Usually we effect riding winds when we cycle, which could be optionally used for electronic applications.
Indeed I took an old dynamo without voltage limitation and build some wooden blades out of pine. Then I understood it is not to easy to cut off equal forms by hand and decided to use bamboo wood carved quite regularly.
Finishing the wind turbine with a diameter of about 27 cm the mini tornado going through my location could not move the blades even during the ride. The solution was to use very light blades and smaller dynamos.
Finally the two wind turbines on the bike could light up a LED bicycle light at usual wind conditions but they didn't give enough output to pop up the charging symbol on the phone. Maybe it does work with a wind solar combined cable which I prepared out of two cables but in the end I left this project for later on because of the low efficiency compared to mass on the bike at the moment.
If you want to build some wind turbine for your bike I would recommend to use condesators like these and bigger non wind direction dependent vertical blades, stronger motors/generators then 0,001 – 5V output or more then two motors and to watch out for motors with a minimum of rotational resistance and safe blade connections.
You can find these generators on any scrapyard, for example I used motors from a old printer and dvd player. Also the cooling fans or fans in hairdryers can be useful at reverse operation.
Please feel free to write your suggestions or experiences below.